What is disability insurance?
Disability insurance provides partial income so you can pay your bills if you get too sick or injured to work. Disability happens to more people, more often than you may think. In fact, more disabilities are caused by illness than injury, including common conditions like heart disease and arthritis, and most disabilities are not covered by Workman's Compensation.1
Some employers will offer short and long-term disability benefits to their employees. A short-term policy helps you immediately after an incident, and a long-term policy helps provide financial protection for disabilities that can last for years. You can also pay for additional coverage on top of the benefits you get at work to help provide extra financial protection.
Who is disability insurance for?
If you depend on the income you receive through work to pay your expenses, then you should probably consider disability insurance. It ensures that you can continue to receive partial income if you end up too sick or injured to work.
How does disability insurance work?
Most disability insurance pays you a percentage of your income if you get sick with a serious illness or experience an injury that prevents you from doing your job. Some cover you in the short term immediately after an incident, while others pay you if your injury lasts for an extended period. You can also purchase supplemental disability insurance, which provides income on top of your other disability policies.
Why do I need disability insurance?
Accidents happen, and we can't always anticipate if or when we'll be diagnosed with an illness, condition, or injury, which is why it's important to have a disability policy that will help you pay your bills in the event that you can't collect your normal paycheck from work. You can start by determining the real cost of protecting your income.
What are the benefits of disability insurance?
People may incorrectly assume what qualifies as a "disability." For example, they may believe the term applies to catastrophic conditions, such as paralysis from a car accident or a debilitating stroke. However, disabilities typically are the result of less severe injuries and more common conditions such as pregnancy, back pain, depression, and digestive disorders.
An analysis of Guardian disability claims shows "mental health," which includes substance abuse, as one of the fastest-growing diagnosis categories in the past five years, along with digestive and circulatory.2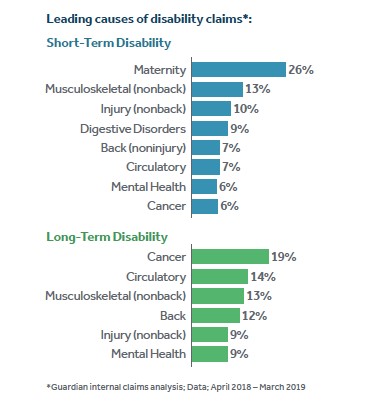 Disability definition
Every disability policy has a specific definition of disability that you must meet in order to get benefits. The two most common definitions used by disability insurance companies are:
Own occupation: a person is considered disabled if they are no longer able to perform the occupation they had prior to becoming disabled.
Any occupation: a person is considered disabled if they are unable to perform any job at all.
It gives you money after an illness or accident
Whether you have short term, long term, supplemental, or individual disability insurance, all plans help protect your finances at a time when you may be in financial risk.
Small business owner protection
In addition to protecting your personal income, disability insurance for small business owners can help safeguard the key areas your absence would impact, including:
Coverage for business expenses
Safeguard your ability to pay business loans
Protect your firm if your business partner becomes too sick or injured to work
Income protection supports financial wellness
One in 5 working Americans have experienced at least one disability leave of absence during the past 10 years due to a condition, injury, or illness.2 The truth is that people of all ages, demographics, and professions have roughly the same potential to experience an income-disrupting injury or illness. More than 25% of today's 20-year-olds can expect to be out of work for at least a year during their career because of a disabling condition.3
Getting disability insurance
How much disability insurance do I need?
First, use your income needs as a guideline to determine your monthly benefit payout.
Then look at the disability insurance offered through your job and determine if that's enough. Generally, you would be reimbursed around 40 to 60 percent of your pre-disability salary. A supplemental disability income insurance plan, either obtained through work or independently, can cover a portion of income that basic insurance may not.
Finally, the longer you are covered, the more you are paid. Plus, some professions have time limits. Office workers can generally be covered up to age 65.
Disability insurance riders
When you're shopping for long-term disability insurance, you can customize your policy through riders. By adding a disability rider, you can specify when you receive your disability benefit, the definitions of coverage for your policy, and more. But not all riders may be right for all people and some riders can raise your policy premiums.
Examples of riders include: Non-cancelable, Guaranteed-renewable, Residual benefits, Future benefits increase
Disability insurance cost
Individual disability insurance can be ideal for anyone who doesn't receive disability insurance through work. It's also an option for high earners looking for extra coverage. Not only can you buy this policy on your own, but it also stays with you if you change jobs.
Several factors will impact how much you pay:
Age: a younger age means lower payments and more financial leverage, as you will pay fewer premiums to achieve the payout
Health history: your history or family history will impact the cost
Benefit amount: the cost will be relative to your current income
Benefit period: how long your insurance company will need to pay benefits
Elimination period: the time after becoming disabled that you start to receive benefits
How to get disability insurance
There are different types of disability insurance, and some are provided by your employer, some you buy yourself, and other types are even government provided.
All offer varying types of coverage and benefits for different situations. But which type is right for you and your loved ones?
Employer-sponsored: Many companies and other organizations wish to look after their employees by providing disability coverage as part of their workplace benefits packages. In some cases, the company pays for the benefit, and in others the employees pay for a portion or all the coverage. 
Individual disability insurance plan: Insurance companies provide private long-term coverage to help protect your paycheck if you become too sick or injured to work (typically until age 65 or older). Get a instant quote for disability income insurance 
Government disability: Government-provided disability is available to Americans as part of the federal government's Social Security Administration benefits. A person is disabled under the Social Security Act if they can't work due to a severe medical condition that has lasted, or is expected to last, at least one year or result in death.
Other FAQs
Is disability insurance tax deductible?
Because of the cost of disability insurance, potential buyers and policy owners alike often ask if it's tax-deductible. In most cases, the answer is no. If you need to collect disability insurance benefits, however, you can expect to receive them tax-free in most scenarios. 
If your employer pays the insurance premium, or the premium is paid on a pre-tax basis, the disability benefit may be subject to tax, reducing the benefit amount you receive.
Can disability insurance help protect the self-employed?
Individual disability insurance can be ideal for anyone who doesn't receive disability insurance through work, including the self-employed.
Does being gender-nonconforming or trans affect your rates?
Contact us or your financial representative to get an answer (usually, it is based on birth sex).
Want help figuring out the right disability insurance policy for you?
Connect with local financial representatives who can help.